On Saturday, Nov. 11, Purdue University Northwest is honoring our veterans with a celebration breakfast. This celebration is open to all of the PNW community and the public. This year's event will be held at the PNW branch campus in Westville, Indiana, and will include breakfast and a keynote address.
More information can be found below, on the flyer for the event and at www.pnw.edu/event/veterans-day-celebration/.
Schedule of Events
8:15 a.m. – Registration
8:30 a.m. – Breakfast Buffet
9 a.m. – Program Starts
Keynote Speaker
Retired State Senator Jim Arnold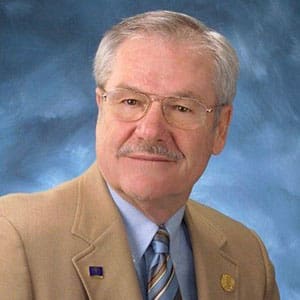 Senator Arnold was born and graduated from Michigan City Elston High School. He is a graduate of Valparaiso University with a BA degree in Political Science and History.
He served 4 years in the United States Air Force as and Air Traffic Controller including 2 years on Okinawa during the Viet Nam war. He later enlisted and served 3 years in the United States Army reserves program.
His career includes 32 years with the LaPorte County Sheriff's office where he served his last 8 as the elected Sheriff. 10 years as State Senator and currently in his 7th year as a member and currently president of the LaPorte Community School board.
He was awarded Sagamore of the Wabash by Governor Kernan in 2004. And elected President of the Indiana Sheriff's Assocation. In 2012 named Indiana Legislator of the Year by the Indiana Disabled Veterans Association. He is in his 61st year of public service.
Married to wife Lauren and resides in La Porte.
To request a disability-related accommodation, please contact the Office of Institutional Equity at oie@pnw.edu or (219) 989-2163 five days prior to the event.